From crazy good moves to awesome scoring times, the Kansas City Chiefs always put on a show that makes them a fan-favorite in the NFL. As the rush to see their games grows nationwide, the question on every fan's lips is, "How to watch Chiefs game?" Whether you're chilling in Kansas City or cheering from the far corners of the country, there are lots of choices tailored to what you need, where you are, and how much you're willing to spend.
In this full-on guide, we'll show you loads of ways to keep up with the Chiefs' exciting stuff. Dive into the world of live TV, check out the different streaming platforms that show the games in super clear quality, and discover the nostalgic charm of radio broadcasts that capture every minute of the game with crazy passion. And, for the super fans who want to feel the excitement buzz firsthand, we're also gonna share some super useful tips on how to get your hands on Chiefs tickets. So, sit back as we unfold the ultimate guide on "How to watch Chiefs game", designed to boost your game-watching fun.
How to Watch Chiefs Games on Live TV?
Live TV is an old but gold way to catch every Chiefs game as it happens. But, the trick to picking the right live TV choice is knowing the different choices and what makes them special. Let's check out some of the best options to quench your thirst for Chiefs' live action.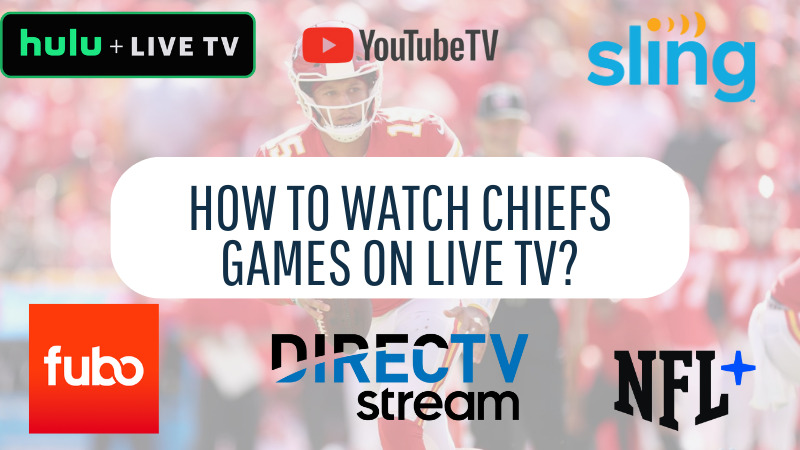 Offering loads of channels including NFL Network, ESPN, and FOX, Hulu + Live TV comes out as an awesome pick for Chiefs fans. With a try it for free on offer, you can give it a try before making a commitment. It's a great starting point if you're wondering "How to watch Chiefs game".
In the world of live sports streaming, YouTube TV has made a name for itself. It's got a channel lineup similar to Hulu + Live TV, and also gives you a free trial, making it a fantastic alternative for watching Chiefs games.
For those who want to save some bucks, Sling TV serves as a cheaper pick for live sports. With a range of channel packages including NFL Network, ESPN, and FOX, it's a budget-friendly choice to keep up with Chiefs games.
While DirecTV Stream may cost a little more, it stands out with loads of channels that set it apart from its rivals. To help you decide, it provides a free trial, giving you a chance to see what it's got before making a commitment.
Focusing on sports, FuboTV gives you lots of channels like NFL Network, ESPN, and FOX. Its free trial is an invitation to delve into its services, helping you make a good decision.
NFL+, a new kid on the live streaming block, offers a promising option for fans. It lets you watch live out-of-market Preseason games, as well as local and primetime Regular Season and Postseason games, right on your phone or tablet. Plus, for just $9.99 per month, you get the luxury of game replays.
Over-the-air TV
For folks living in Kansas City, over-the-air TV is a simple method to watch Chiefs games. Just tune into channels 41 (CBS) and 5 (FOX) to join in the live action.
Cable or Satellite TV
If you're a cable or satellite TV subscriber, channels 41 (CBS), 5 (FOX), 11 (NBC), and 2 (ESPN) are your gateways to Chiefs games. With this range of options, figuring out "How to watch Chiefs game" becomes a breeze.
Which Live TV Streaming Service is Right for You? Choosing the ideal live TV streaming service depends on your preferences and budget. Hulu + Live TV or YouTube TV are excellent choices for a broad channel lineup and a free trial. For cost-effectiveness, consider Sling TV, while sports enthusiasts might prefer fuboTV. And, Kansas City residents can enjoy Chiefs games free on over-the-air TV.
How to Watch Chiefs Games on Streaming Services?
Radio broadcasts provide an all-in way to experience the thrill of Chiefs games, even if you can't watch the live action. Here's how to keep up with the Chiefs on the radio, whether locally, nationally, or via streaming platforms.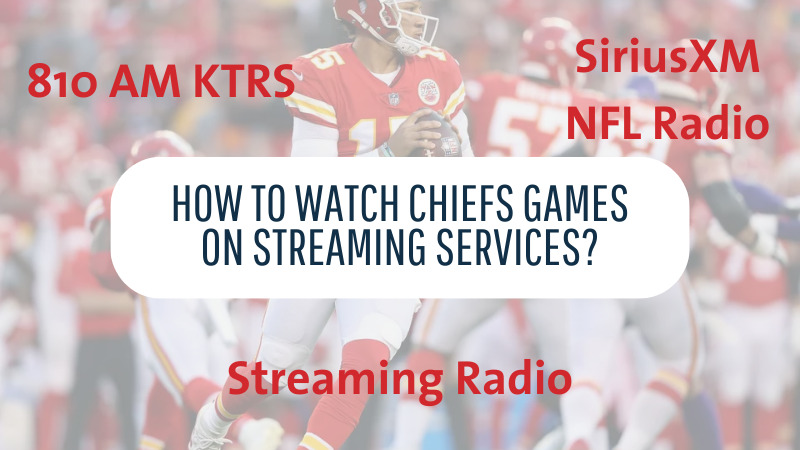 Local Radio
In Kansas City, the Chiefs' flagship radio station is 810 AM KTRS. You also have 101.1 FM KCMO-FM in Kansas City and 98.1 FM KTCK-FM in Omaha, ensuring you won't miss any game updates.
National Radio
For fans outside of Kansas City, SiriusXM NFL Radio is your ticket to every Chiefs game. Subscriptions can be availed online or by calling 1-866-635-2255, bringing the excitement of Chiefs games right into your car or home.
Streaming Radio
For those who are cool with streaming, the Chiefs Radio Network offers an impressive service. You can listen to live games or enjoy on-demand broadcasts for $9.99 per month. It's a great choice for those pondering "How to listen to Chiefs games", especially when on-the-go.
You may also like: How Many Draft Picks Do the Chiefs Have In 2023
Tips for Finding Chiefs Tickets
Feeling the electric energy in the stadium while cheering for the Chiefs is an exhilarating experience. If you're hoping to get in on that excitement, here are some super useful tips to secure Chiefs tickets.
Buy Early
The early bird gets the best seats! Grab your tickets as soon as they're out to get the best seats at the most reasonable prices.
Shop Around
There are several websites offering Chiefs tickets, so it pays to look everywhere. Check out different platforms to get the best deal on tickets.
Be Date-flexible
If your preferred game is sold out, consider going to a different game. The Chiefs play 17 games each season, giving you plenty of chances to see them in action.
Consider Third-party Sellers
Other ticket sellers often have tickets you can't find on the Chiefs' official website. Just remember to look closely and compare to avoid scams and frauds.
Sign Up for Email Alerts
Lots of ticket brokers and websites offer get notified for ticket availability. It's a great way to stay in the loop and beat the rush.
There are several popular websites where you can hunt for Chiefs tickets:
Ticketmaster: Ticketmaster is a well-known place for sports and concert tickets, with a variety of Chiefs tickets usually up for grabs.
StubHub: StubHub offers a huge range of sporting and concert tickets, often cheaper than Ticketmaster, although what they have might change.
SeatGeek: A new kid on the ticketing block, SeatGeek has user-friendly features like price alerts and a seat map to make your ticket buying experience easier.
NFL Ticket Exchange: As the official ticket marketplace of the NFL, the NFL Ticket Exchange offers a wide selection of Chiefs tickets, although prices might be higher compared to other websites.
Regardless of where you decide to buy your Chiefs tickets, always remember to look closely and compare prices before buying. With these tips in your back pocket, you'll know how to find the best Chiefs tickets and get in on the super exciting live experience!
In conclusion, with lots of ways to pick from, figuring out "How to watch Chiefs game" is no longer a big deal. Whether you're catching the live action on TV, tuning in via radio, or getting in on the action with tickets, there's a way for every Chiefs fan to join the game. Don't forget to stop by the ChiefsFam store to gear up with legit Kansas City Chiefs gear and show your true colors!